Students' Perception Towards Blended Learning Using English Discoveries at the University of Muhammadiyah Surabaya
Keywords:
students' perception, blended learning , English discoveries
Abstract
In improving the students' English abilities at private institutions in Surabaya, the English Discoveries platform was used in the English learning process in all faculties using the blended learning technique. The lecturers followed the instructions on utilizing English Discoveries in a Blended Learning environment. Meanwhile, students unfamiliar with new learning media as part of the blended learning technique must adjust to a new English learning experience. Student perceptions were essential to understand as evaluation for the next learning process. As a result, the purpose of this study was to find out what students feel about blended learning with English Discoveries, how it affected English language abilities, and what strengths and limits students had while utilizing the blended learning technique. This study distributed questionnaires to 329 students from seven faculties to determine student perceptions. This study showed that English Discoveries was an easy-to-use platform that aided and delivered a learning experience for students participating in blended learning activities. English students' English skills comprised stages of learning. Because of the flexible learning techniques, the students had plenty of time to examine the topic and practice one of their English abilities. On the other hand, students had issues with unstable internet network connections. As a result, learning must be carefully prepared before beginning to establish a pleasant learning environment, which necessitates strong cooperation between lecturers and students throughout the learning process.
Dalam upaya meningkatkan kemampuan bahasa Inggris mahasiswa di universitas swasta di Surabayaplatform English Discoveries diterapkan melalui metode blended learning pada proses pembelajaran bahasa Inggris di semua fakultas. Para dosen telah diberikan pelatihan tentang penggunaan English Discoveries dalam metode blended learning. Sedangkan bagi mahasiswa yang baru dikenalkan dengan media pembelajaran baru dalam metode blended learning harus beradaptasi dengan pengalaman belajar bahasa Inggris yang berbeda dari sebelumnya. Persepsi mahasiswa sangat penting untuk diketahui sebagai bahan evaluasi dalam proses pembelajaran selanjutnya. Oleh karena itu, penelitian ini bertujuan untuk mengetahui persepsi mahasiswa  terhadap pembelajaran blended learning menggunakan English Discoveries, dampaknya terhadap kemampuan berbahasa Inggris, kelebihan dan kendala ketika pembelajaran menggunakan metode blended learning. Untuk mengetahui persepsi mahasiswa, penelitian ini menyebarkan angket kepada 329 mahasiswa dari 7 fakultas. Temuan penelitian ini mengungkapkan bahwa English Discoveries merupakan platform yang mudah digunakan, serta efektif dan efisien dalam membantu siswa belajar dalam blended learning. Tahapan pembelajaran yang terdapat dalam English kemampuan bahasa Inggris mahasiswa Para mahasiswa memiliki banyak waktu untuk mengeksplorasi materi dan salah satu keterampilan bahasa Inggris mereka karena metode pembelajaran yang fleksibel. Di sisi lain, mahasiswa mengalami kendala dalam hal koneksi jaringan internet yang tidak stabil dan biaya kuota internet yang mahal. Oleh karena itu pembelajaran harus dipersiapkan dengan baik sebelum memulai untuk menciptakan suasana belajar yang nyaman, hal ini membutuhkan kerjasama yang baik antara dosen dan mahasiswa dalam proses pembelajaran.
References
Amalia, R., 2018, Students' Perception of Online Assessment Use in Schoology in EFL Classroom, Thesis, Sunan Ampel State Islamic University, Surabaya.
Arnita, 2020, Teachers' Perceptions of Blended Learning in English Intensive Program at UINSA, Sunan Ampel State Islamic University, Surabaya.
Creswell, J. W., 2012, Educational Research: Planning, Conducting and Evaluating Quantitative and Qualitative Research, Fourth Edition, Pearson, Inc., Boston.
Husamah, 2014, Pembelajaran Bauran (Blended Learning), Pustaka Jaya, Jakarta.
Munadi. (2010). Media pembelajaran, Gaung persada (GP) press: Jakarta.
Munir, 2009, Pembelajaran Jarak Jauh Berbasis Teknologi Informasi dan Komunikasi, Alfabeta, Bandung.
Suparto, Sakinah, Purwanti, Anisah, 2019. The Implementation of Blended Learning Using English Discoveries for English Intensive Program at UINSA: Teachers' and Students' Perspectives.
Talis, 2017, The Students' Perception Toward Implementing Blended Learning Method in English Language Teaching (ELT) at The Fifth Semester Students English Department, University of Muhammadiyah Makassar.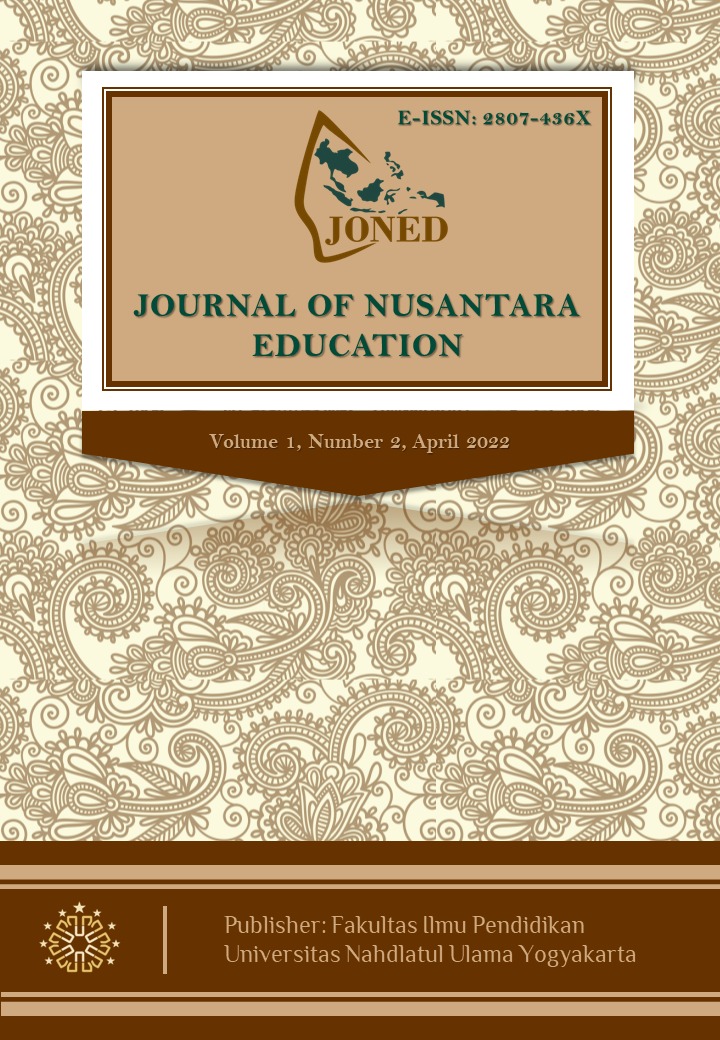 Downloads
How to Cite
Hesmatantya, V., Ari Firmansyah, S., & Mayasari, L. (2022). Students' Perception Towards Blended Learning Using English Discoveries at the University of Muhammadiyah Surabaya. Journal of Nusantara Education, 1(2), 53–59. https://doi.org/10.57176/jn.v1i2.16
License
Copyright (c) 2022 Salman Ari Firmansyah, Linda Mayasari, Vega Hesmatantya
This work is licensed under a Creative Commons Attribution-ShareAlike 4.0 International License.